The AAMS Mourns the Loss of Dr. Aram V. Chobanian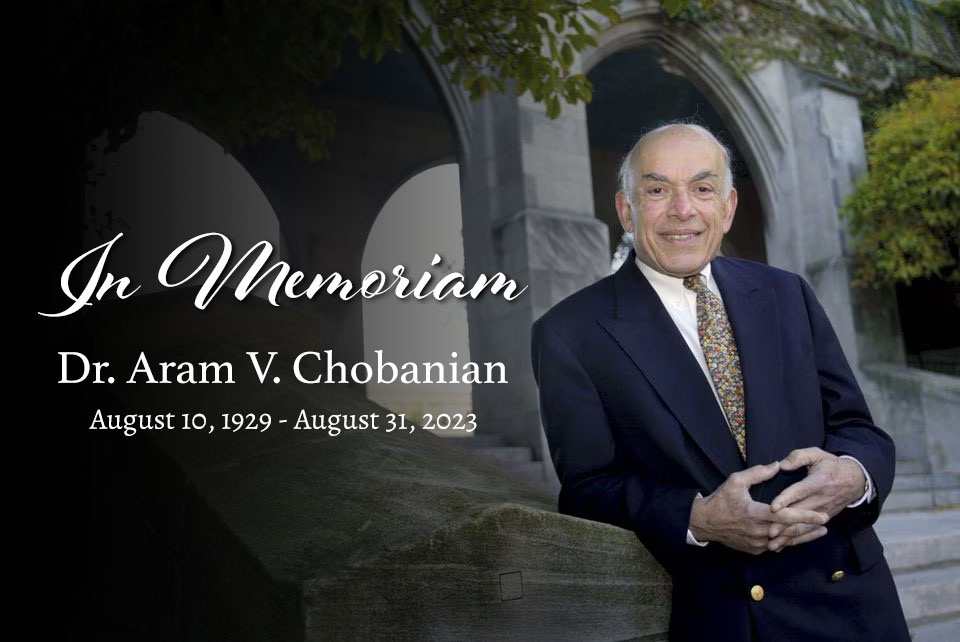 Remembering Dr. Aram V. Chobanian
It is with great sadness that we announce the passing of Dr. Aram V. Chobanian, President Emeritus of Boston University, and previous Dean of Boston University School of Medicine.
Dr. Chobanian received AAMS's Lifetime Achievement Award in February of 2002 in recognition of a lifetime contribution to the betterment of the science of medicine and Human Life. The world has lost an iconic individual.
Born in Pawtucket, Rhode Island, he grew up among the Armenian immigrant community and, like many others, was encouraged to pursue and excel in education, as well as to participate in outside interests, such as sports and music. Dr. Chobanian attended Brown University before earning his M.D. from Harvard Medical School. A world-renowned cardiologist, Dr. Chobanian was principally responsible for establishing the connection between hypertension and accelerated vascular disease, including atherosclerosis. His research accomplishments propelled him into the leadership of the Joint National Commission on Detection, Evaluation, and Treatment of High Blood Pressure, which developed the national healthcare guidelines for hypertension in the United States.
Dr. Chobanian was the recipient of the first Lifetime Achievement Award in Hypertension of the American Heart Association, the Modern Medicine Award for Distinguished Achievement, the American Heart Association Award of Merit, the NHLBI Freis Award, and the Massachusetts Medical Society Lifetime Achievement Award. He had a long and storied career at Boston University and its Medical School, becoming the founding Director of the Whitaker Cardiovascular Institute in 1973. From 1975-95, he also served as Director of the Hypertension Specialized Center of Research, funded by the National Institutes of Health. Dr. Chobanian was appointed University Professor and John I. Sandson Distinguished Professor of Health Sciences. He became Dean of the School of Medicine in 1988 and Provost of the Boston University Medical Campus in 1996. In October 2003, he was appointed President of the University and served in this role until June 2005. In September 2022, The School of Medicine at Boston University was renamed the Boston University Aram V. Chobanian & Edward Avedisian School of Medicine after a generous gift by Avedisian, his childhood friend. The gift supports scholarships, endowed faculty chairs, and cutting-edge research. He was passionately dedicated to improving healthcare in Armenia and involved in several programs to advance undergraduate and graduate medical education and science programs there. Dr. Chobanian was a past member of the board of directors of the Fund for Armenian Relief and proud of the mission and work of the organization. For several years, he also chaired the International Advisory Board of Yerevan State Medical University. He was an elected Foreign Member of the Armenian National Academy of Sciences and is a Gold Medal recipient from the President of Armenia.
A lifelong fan of music, he taught himself to play the piano. During his later years, he studied music composition, composing a variety of pieces, including songs, operas, operettas, and musicals. Beyond these many accomplishments, he was first and foremost a family man. He was the beloved husband of the late Jasmine Chobanian; father to his three children, Karin Chobanian Torrice, Lisa Chobanian (Wolfgang Ramboeck), and Aram Chobanian, Jr. (Louise Hagopian Chobanian); and adoring grandfather to Marc Torrice and Vanessa Torrice, M.D.