Haroutun Hovanesian MD - Licensed Member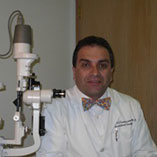 Specialty: Ophthalmology
Board Certified: Ophthalmology
---
Address:
5449 Hollywood Boulevard Suite B
Los Angeles, CA 90027
Phone Number: 90027
Fax Number: 323-871-2277
Email Address: specialtyeyecare@yahoo.com
---
Address:
13739 Riverside Drive Suite A
Sherman Oaks, CA 91423
Phone Number: 818-386-0008
Fax Number: 818-386-0290
Email Address: specialtyeyecare@yahoo.com
---
www.Specialtyicare.com
Address:
7739 Santa Monica Boulevard
West Hollywood, CA 90046
Phone Number: 323-656-7771
Fax Number: 323-656-7710
Email Address: specialtyeyecare@yahoo.com
Dr. Haroutun Hovanesian is a Board Certified ophthalmologist who specializes in the treatment of vitreo-retinal diseases, as well as cataracts, and a wide variety of other eye disorders. He practices at the Specialty Eye Care Medical Center, with its three locations in Glendale, Sherman Oaks, and Hollywood.
Dr. Hovanesian earned his medical degree at the Yerevan State Medical Institute. After graduating from medical school, he decided to specialize in ophthalmology at the Helmholtz Eye Institute in Moscow. Dr. Hovanesian's thesis of dissertation was awarded the highest recognition prize established for young scientists in the former Soviet Union. Upon completion of his ophthalmology training, Dr. Hovanesian practiced as an Assistant Professor at the Department of Ophthalmology at the Yerevan State Medical Institute.
In 1990 Dr. Hovanesian relocated to the U.S. He was first a Research Associate at the Doheny Eye Institute at the University of Southern California, and then continued his research in the treatment of macular degeneration at the University of Chicago. The results of his research were published in the leading ophthalmology journals. His research work in the methods of RPE transplantation was awarded the 1st Prize by the Chicago Ophthalmological Society. His residency training in ophthalmology continued at the University of Chicago Hospitals, where he became the chief resident. Upon completion of residency, Dr. Hovanesian continued his training as a fellow in treatment of vitreo-retinal diseases at the University of Tennessee. Dr. Hovanesian is a fellow of the American Academy of Ophthalmology, member of the American Society Retina Specialists and Armenian American Medical Society.