AAMS' 7th Annual CME & CDE Spring Symposium
Christine Armenian, DDS, MPH is the proud co-owner of the Glendale Kids Dental Place.  She graduated from UCLA dental school and has a Masters degree in Public Health from Johns Hopkins University.  She is a general dentist that has limited her practice to pediatrics.  In the past 15 years, Dr. Armenian and her business partner have built a practice that is fully engaged in the community, providing children and their families a welcoming environment for dental care. Their office has a fun and family-friendly environment adorned with whimsical décor, enchanting murals, and an elaborate waiting room. Dr. Armenian strives to make dental care pleasant for her patients by offering sedation methods such as laughing gas (nitrous oxide), oral sedation, and IV sedation administered by a highly trained anesthesiologist.  She also stays up to date with the latest technology by using state-of-the art digital x-rays, documentation, and treatment planning. At Kids Dental Place, she emphasizes the importance of establishing a dental home and a good preventative regimen early in life.  At each visit, she provides patients and families the necessary knowledge to maintain a healthy smile over a lifetime. Dr. Armenian has established a strong relationship with the Colgate Bright Smiles, Bright Future Mobile Van and every year she provides free screenings for nearly 2000 students at local schools.  She has also been involved with various local health fairs, Glendale Healthy Kids, and Dentistry from the Heart, allowing her to emphasize the importance of preventive dental care in children living in our community. Dr. Armenian has been an active member of the California Dental Association and the American Dental Association since 2002. She will be speaking on "The Role of Community Dentistry in Childhood Dental Care."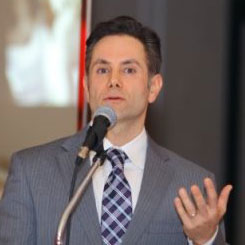 Harry Balian, MD, FACC, FSCAI, received his Medical Degree from Chicago Medical School in 1997. He completed his Internal Medicine Residency at the University of California, Irvine where he also served as Chief Resident. Completed his Cardiology fellowship at the University of California, Irvine where he served as Chief Fellow. Dr. Balian completed his Interventional Cardiology and Vascular training at the George Washington University in Washington DC. Dr. Balian specializes in the treatment of heart disease, coronary artery percutaneous interventions and pacemaker insertions. He also performs peripheral vascular interventions including carotid stents, endovascular abdominal aortic aneurysm stents, renal stents and lower extremity angioplasties. Dr. Balian is board certified in Internal Medicine, Cardiovascular Diseases, Nuclear Cardiology, Interventional Cardiology and Vascular Medicine. Dr Balian is the Director of Structural Heart Program at Glendale Adventist and started the TAVR (percutaneous aortic valve replacement) program since 2016. Dr. Balian is and has been a member of the Executive Committee of AAMS Since 2006. He is a fellow of the American College of Cardiology, the Society of Coronary angioplasty and Interventions and the American Heart Association. He has been the Medical Director of the Cardiac Cath Lab at Glendale Adventist Heart & Vascular Institute since 2006 and recently named the Medical Director of the Peripheral Vascular Lab at St Vincent Hospital. He is an Associate Clinical Professor at Western University School of Medicine. Dr. Balian will be speaking on the following topic: "Advances in Vascular Health."
Richard Berberian, Esq. is one of the founding Partners of Keosian Berberian LLP. He formerly defended mega insurers, self-insured entities, healthcare organizations, physicians, dentists, nurses, physical therapists, and various other health care providers in medical malpractice, elder abuse and personal injury litigation in one the largest defense law firms in Los Angeles. In 2010, he left to start his own private practice shifting his focus to represent the individuals who were injured or wronged by the very people and organizations he had previously defended. Mr. Berberian's areas of practice include the prosecution of medical malpractice, elder abuse and neglect, and catastrophic personal injury cases. With more than a decade of litigation experience serving both the defense and plaintiff sides, Mr. Berberian has a unique perspective in approaching complex cases knowing very well which fact patterns lead to success, and which ones should never make it to a jury.  Mr. Berberian received his Juris Doctor degree from Southwestern University School of Law in 2004. He holds a Bachelor of Arts from California State University, Northridge, in Sociology, Criminology and Corrections. He is licensed to practice before all courts in the state of California and the United States District Court for the Central District. He will be speaking on "California Medical Malpractice - the Plaintiff's Perspective".
Garo Ghazarian, Esq. is the Chief Litigation Attorney and the Principal of a Criminal Defense firm in Encino, CA. He handles defense of complex white collar criminal cases in Federal Courts throughout the U.S., as well as serious Felony and Misdemeanor offenses in California State Courts. He regularly mentors Armenian law students who frequent his Law Office and enjoy his tutelage. He has appeared as a commentator on many national and worldwide television news programs, including Al-Jazeera English News, CNN, and FOX TV News. He has lectured extensively at FBI Academy in Quantico VA; at Sheriff's Academies in California; major universities in the US, Armenia, and elsewhere; and, he is a past instructor at the National Strategy Information Center (NSIC) in Washington D.C. Since 2011, Garo has been serving as a Civil Service Commissioner in the City of Glendale; he has also served two terms as Chairman of Armenian Bar Association's Board of Governors (2012-2014), and is currently serving as the Co-Chair of its Armenian Rights Watch Committee (ARWC). He is the former Dean and a Law Professor at Peoples College of Law in Los Angeles (1996-2017). And, he is a long time Board member of the Armenian Center for National and International Studies (ACNIS), a Think Tank based in Yerevan-Armenia. He will be speaking on "Employment Theft".
Gerard V. Kassabian, J.D., LL.M., is a California Bar licensed attorney since 2002 with his law office located in Beverly Hills, California. Gerard per forms legal services in the following areas: Estate and Tax Planning,Trust Administration and Litigation, Probate Administration, Family Law, Real Estate Transactions and Litigation, Business Entity Formation and Litigation, and Trademark Applications. After graduating Southwestern Law School where he was an associate editor of the Southwestern Law School Law Review, Gerard earned a Master of Laws (LL.M.) in Estate Planning from the University of Miami School of Law, which is the premier graduate law school program in the country offering a master's degree in estate and tax planning and is closely associated with the Heckerling Institute on Estate Planning. These law degrees coupled with dual-degrees from the University of Southern California in Business Finance with emphasis in Real Estate and Political Science allow him to offer well-rounded business and legal advice. Gerard currently serves on the board of directors of the following entities: Golden State Bank, Armenian Bar Association, Southwestern Law School Alumni Association, West Hollywood Sheriff's Booster Club, House of Lebanon, and Artsakh Development Group. He will be speaking on "Update on Estate Planning and Probate Administration".
Sirvard Khanoyan, MD, FAAFP is currently the Program Director at Glendale Adventist Family Medicine Residency Program. She received her undergraduate degree from UCLA and obtained her medical degree from Tufts University School of Medicine in Boston, Massachusetts. Dr. Khanoyan completed her Family Medicine Residency at Glendale Adventist Family Medicine Residency Program. Following graduation she joined the residency faculty. After serving as core faculty and Medical Director of the Family Medicine Center for 13 years, she assumed the role of Program Director. Dr. Khanoyan is a strong advocate for medical education and patient centered medical care.
George Melikian, MD, MPH, is a Board certified physician (in infectious diseases and internal medicine), medical director, and professional statistician. He received his master's degree in infectious disease epidemiology and biostatistics from Yale University and his Medical Degree from New York Medical College. He completed his medicine residency at the University of Rochester, Strong Memorial Hospital, and his specialty training in infectious disease medicine at Stanford University School of Medicine. Since that time, he has practiced medicine taking on several roles. Serving as attending physician regional medical director for AIDS Healthcare Foundation, he has successfully managed over 40 specialty clinics in HIV/AIDS healthcare. He is also Principal Investigator on numerous clinical research studies. Dr. Melikian is currently director of infectious disease at Facey Medical Group. He will be speaking on "An Introduction to Clinical Research and Why it May be a Valuable Addition to Your Medical Practice."
Araz Melkonian, MD is a second year resident at Glendale Adventist Family Medicine Residency Program. He received his undergraduate and medical school degree from the Al-Nahrain University/College of Medicine in Iraq. He has been elected as chief resident to lead and represent his colleagues in the upcoming academic year. Dr. Melkonian has strong academic skills and brings compassionate service to the community.
Born and raised in Istanbul, Edvin Minassian, Esq. immigrated to the United States at the age of 17. Graduate of the University of Southern California with a Bachelor of Science Degree in Finance in 1987 where he was an active member of the ASA and the elected President of the International Students' Assembly. After obtaining his Juris Doctor degree from Loyola Law School in 1990; he also became a member of the State Bar of California the same year. A certified specialist in the field of workers' compensation by the State Bar of California, Mr. Minassian has been the managing partner of the law firm of Tennenhouse, Minassian & Adham which he founded in 1993. He is also a member of the Bar of the Supreme Court of the United States. He has lectured frequently on employment and workers' compensation laws; has been the attorney of record for numerous landmark decisions by courts in the field and is on the approved list of Arbitrators by the Division of Workers' Compensation of the State of California. A former two-term Chairman of the Armenian Bar Association; Mr. Minassian currently serves on the board of the Armenian Legal Center for Justice and Human Rights among other various non-profit organizations. Mr. Minassian will be speaking on "Trump and Sacramento: Compliance Pitfalls for California Employers".
John Norian, MD, FACOG, double board certified in Obstetrics & Gynecology and Reproductive Endocrinology & Infertility, received his undergraduate degree from the University of California, Berkeley, his Medical Degree from the Royal College of Surgeons, completed his residency in Obstetrics and Gynecology at the Albert Einstein College of Medicine program and his fellowship in Reproductive Endocrinology and Infertility at the National Institutes of Health. His philosophy in helping couples realize their dream of having a family combines both the precision and science of reproductive medicine with a compassionate style of doctoring. Dr. Norian is involved locally and nationally to advocate for reproductive health. He is currently the elected chairperson of the Society for Assisted Reproductive Technology's registry committee, which greatly helps to improve patient safety and transparency for IVF clinics throughout the United States. As a board member of Path2Parenthood, Dr. Norian has raised awareness and developed usable information about fertility options for gay men and women and those in our greater LGBT community. Dr. Norian has authored over 25 peer-reviewed journal articles and book chapters focusing on reproductive biology and infertility. He has earned numerous distinctions and awards throughout his career. Several of his often cited articles have helped to broaden our scientific understanding and have guided clinical care. He will be speaking on "ABC's of Genetics for Fertility and Women's Health."
Gregory Ohanian, DDS, MS has been practicing orthodontics in corporate and private practice settings since 2012.  He completed his undergraduate studies at University of California, Irvine and earned his dental degree from the University of Southern California. Dr. Ohanian then went on to New York City, where he completed an orthodontic residency at Columbia University in 2012. Upon graduation, he moved back to Los Angeles, with the goal of opening his own private practice in his home town. Dr. Ohanian is a strong advocate of lifelong learning. He regularly attends continuing education courses and remains active in various national, regional and local professional organizations, including the American Board of Orthodontists (ABO), the American Association of Orthodontists (AAO), Pacific Coast Society of Orthodontists (PCSO) and the San Gabriel Valley Dental Society (SGVDS). Dr. Ohanian will be speaking on "Indications for Early Orthodontic Treatment."
Raffi Petrossian has worked for Dentsply Sirona in the preventive division since 2014. He received his degree at University of California, Irvine and has since established a career as a consultant to dental offices in the Los Angeles area. His specialties include hygiene and infection prevention. He has been trained in ultrasonic scaling, dentinal hypersensitivity, CDC compliance, and revenue generation. He sponsors several study clubs including San Fernando Valley Dental Hygienists' Society, Ventura County Dental Hygienists' Association, Alpha Omega International Dental Fraternity, and supports hygiene schools and dental offices throughout the area. His goals are to keep clinicians and patients healthy by offering continuing education on infection prevention and hygiene protocol. He will be speaking on "The Infection Control Flow in the Dental Setting."
Kristina Shagramanova, DDS obtained her Doctor of Dental Surgery (DDS) degree from University of California, Los Angeles (UCLA). After graduating from dental school, Dr. Shagramanova completed a one-year Advanced Education in General Dentistry (AEGD) residency program at UCLA. Following one year of practice in general dentistry, Dr. Shagramanova pursued a postdoctoral residency in advanced Endodontics at the Temple University School of Dentistry in Philadelphia. Dr. Shagramanova is a Board-eligible member of the American Board of Endodontists and maintains active membership in numerous professional associations.
Dr. Shagramanova maintains two dental practices limited to Endodontics in Glendale and Santa Clarita, CA. Dr. Shagramanova is also an endodontic faculty member at the UCLA School of Dentistry. She will be speaking on "CBCT applications in Endodontics."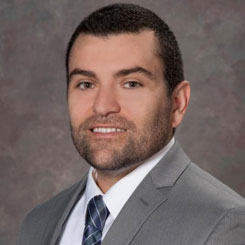 James H. Tabibian, MD, PhD is an Associate Professor at the Geffen School of Medicine at UCLA. He is the Director of Endoscopy and Resident Research Director for the Department of Medicine at Olive View-UCLA Medical Center. His practice is focused on advanced endoscopy in the diagnosis and management of gastrointestinal, pancreatobiliary, and hematologic disorders and on training the next generation of gastroenterologists. Dr. Tabibian grew up in Central California, where he attended UC Davis as an undergraduate. He received his MD degree at UCLA, wherefrom he graduated with Alpha Omega Alpha honors. He completed Internal Medicine Residency in the Osler Training Program at Johns Hopkins. Thereafter, Dr. Tabibian became the first joint NIH-ABIM Subspecialty Research fellow in the Division of Gastroenterology and Hepatology at Mayo Clinic Rochester. During fellowship, he also successfully defended a PhD thesis through Mayo Graduate School, Center for Clinical and Translational Studies. Following his training at Mayo Clinic, Dr. Tabibian joined the University of Pennsylvania as an Advanced Endoscopy Fellow and Instructor. At the terminus of his year at Penn, Dr. Tabibian returned to California to join the faculty at UC Davis as an Assistant Professor and Director of Fellow Research. Family needs have recently brought him back to Southern California. Dr. Tabibian has expertise in endoscopic retrograde cholangiopancreatography (ERCP), cholangioscopy, endoscopic ultrasound (EUS-FNA), endoscopic mucosal resection (EMR), luminal stenting, and enteroscopy, is highly published in the biomedical literature, has received multiple extramural grants, and holds numerous editorial positions. He will be speaking on "21st Century Gastroenterology: What's Real and What's Not."
Melissa Winn is a Corporate Vice President and Advanced Planning Consultant with New York Life Insurance Company, serving the agents of the Pacific Zone. Ms. Winn is a skilled consultant, collaborating with agents, their high net worth and business owner clients, and other professional advisors in the identification and implementation of optimal estate and business planning strategies.  Ms. Winn joined New York Life with over ten years' professional experience in the financial services industry and legal community, having worked with prominent life insurance and financial planning companies and high profile law firms.  Leveraging her technical knowledge and collaborative style, Melissa has become a sought-after specialist for New York Life agents working with affluent individuals and business owners in the areas of business succession planning, trusts and wealth transfer techniques, qualified plans and executive benefits. Melissa earned her law degree from William & Mary Law School in Williamsburg, Virginia; and received her Master of Laws in Taxation from New York University School of Law with a concentration in the taxation of trusts and estates. She earned her Bachelor of Arts (magna cum laude) in English literature from Wellesley College, Massachusetts.
Melissa is fluent in French; conversational in Japanese; and, proficient in translating the Internal Revenue Code into English. Ms. Winn will be speaking on "The Tax Cuts and Jobs Act: Key Elements and Opportunities".