Hrair Aram Koutnouyan MD - Licensed Member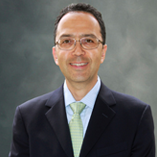 Specialty: Ear Nose & Throat, Head & Neck Surgery
---
Address:
1505 Wilson Terrace Suite 270
Glendale, CA 91206
Phone Number: 818-241-2101
Fax Number: 818-241-2166
---
Address:
50 Alessandro Drive Suite 230
Pasadena, CA 91105
Phone Number: 91105
Fax Number: 626-577-5544
Dr. Koutnouyan is a Diplomate of the American Board of Otolaryngology and Head and Neck Surgery.
Dr. Koutnouyan graduated with high honors from the University of California at Riverside in 1987, with a degree in Biochemistry. He received his medical education at the University of California in San Diego, and he completed his otolaryngology residency training at the Kaiser Hospital in Oakland, California in 1997. He joined the practice of Dr. Carl Ermshar in 1997 and together they established the ENT Surgical Associates in 1999. He currently has three partners, Drs. David Yun, Sarah Carroll and Eric Yavrouian. The Group has an office on the campus of the Glendale Adventist Hospital in Glendale, and a second office on the campus of the Huntington Hospital in Pasadena.
Dr. Koutnouyan sees adult and pediatric patients with conditions of the ears, nose, sinuses, oral cavity, face, throat, voice box and neck. His expertise includes diagnosis and treatment of ear infections and hearing loss, nasal congestion and allergies, snoring and sleep apnea, hoarseness and swallowing problems. In addition, he offers comprehensive surgical treatments for tumors of the face, salivary glands, oral cavity and the throat, the thyroid and parathyroid glands. When treating environmental allergies, food sensitivities, chronic sinus infections, thyroid or other related conditions, he uses a comprehensive functional approach that evaluates the patient's overall health and performance status, lifestyle and dietary habits, nutritional status, as well as environmental toxin exposures. His treatments include a combination of lifestyle changes, sound dietary choices, stress management, pharmaceutical, nutriceutical and natural remedies, as well as surgeries, as indicated.
He is on the medical staff of several area hospitals including the Glendale Adventist Medical Center. He is a member of the Los Angeles Society of Otolaryngology, the American Academy of Otolaryngology, Head and Neck Surgery, the Los Angeles County Medical Association, the California Medical Association and the Armenian American Medical Society of California. Dr. Koutnouyan is married and has a 15 year old son and a 13 year old daughter.