Garni Barkhoudarian MD - Licensed Member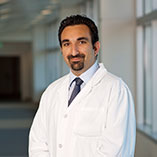 ---
John Wayne Cancer Institute at Providence Saint John's Health Center
Address:
2125 Arizon Avenue
Santa Monica, CA 90404
Phone Number: 310-582-7450
Fax Number: 310-582-7495
Email Address: garni.barkhoudarian@gmail.com
Website: www.brain-tumor.org
Dr. Garni Barkhoudarian is an Assistant Professor of Neurosurgery and Neuroscience at the John Wayne Cancer Institute at Saint John's Health Center in Santa Monica, CA. Garni completed his undergraduate education at UCLA, majoring in Microbiology and Human Genetics. He attended the University of Michigan Medical School, wherein he was the Edgar A. Kahn Neurosurgery Research Fellow. He completed his Neurosurgery Residency at the UCLA Medical Center. He then completed a fellowship in Pituitary Surgery and Neuroendoscopy at the Brigham and Women's Hospital and Harvard Medical School.
Dr. Barkhoudarian's clinical interests are minimally invasive skull-base surgery, pituitary disorders, benign and malignant brain tumor surgery, neuroendoscopy, adult hydrocephalus, trigeminal neuralgia and hemifacial spasm, and head injury / concussion.
He is the director of the Adult Hydrocephalus and Neuroendoscopy program where he works with Dr. Daniel Franc to treat patients with normal pressure hydrocephalus (NPH) amongst other diagnoses.
He is the director of the Brain Tumor Center Skull-Base and Endoscopic Microdissection Laboratory. Dr. Barkhoudarian is involved in a number of clinical and translational research studies, evaluating the genetics, diagnosis, treatment and results of patients with malignant metastatic tumors, meningiomas, chordomas and pituitary tumors. He is also evaluating children as well as active and former NFL athletes with chronic, repetitive concussions and brain injury. He has a special interest in the advancement of technologies for minimally invasive neurosurgical procedures.